Lucy T. - Fun and Motivational Tutor Dedicated to Creating Independent Learners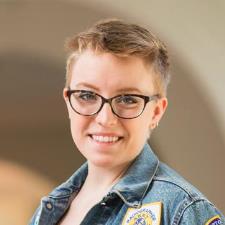 $55 / hr
Charlottesville, VA
10 miles Travel Radius

In-person + Online
HI there - I'm Lucy! Since graduating from the University of Virginia with distinction in 2017, I have worked as a full-time private tutor. I love connecting with students at a personal level in order to find a learning style that suits their needs. Through this experience, I've realized that working with students and helping them achieve their goals helps motivate me to achieve my own. A few years down the road, I hope to enter a joint JD/PhD program and pursue my dream of becoming a human r...
Reviews
Lucy tutors my son Connor who is a freshman in college and needs organizational help! He has ADHD and is on the autism spectrum. Lucy guided Connor through the most up to date way to write an annotated bibliography. And he actually turned it in on time! Thanks Lucy!!
- Tim S. from Erie, PA
With my disability that limited me from able to type any essay/big papers, she is always willing to type whatever I had to say to her. Sometime I am not sure about how to add/delete info, she always makes good suggestions. Also if I am not sure about specific information or how to explain it, she always gives advice and gives me great sentences that explain what I say in shorter version. She is very smart and knows English so well. It is a huge help for me due to my English is not that great. She knows good words that I would never have thought since I always think of basic words. She knows how to make words even stronger without needing a lot of explanation. She?s very flexible with the schedule and always make great compromises with schedules due health issues. She?s not very serious during tutoring. She?s outgoing and talks about things that are fun topics while typing the papers. For example, she would talk about family, food, school, and other stuff. I tends to meet up with her on an online webcam at least twice a week to do my stuff. I?m soooo grateful for her huge help! She?s very patient and doesn?t care about background sound from my side from dogs barking, people laughing, etc. She is GREAT!! I highly recommend her for you!! I will keep working with her for long time. :) GO FOR HER!! Hehe. Thanks!!
- Kailyn G. from Fairfax Station, VA
Lucy started a portion of my coding for my research paper for me just to help me understand what exactly coding is and how to do it and what to look for. She made it crystal clear how it should be done. Made it really easy to understand it.
- Keri G. from Glencoe, IL
I have a stubborn, difficult 18 year old. I turned the computer on and left the room. Getting him to sit down to study Spanish is more difficult than getting him to change his nephew's worst diaper - so when he came out of the office with such a great attitude and didn't complain at all, I knew Lucy HAD to have done a GREAT job.
- Tracy P. from Brandon, FL
Lucy is an amazing tutor. Two sessions in and I'm amazed by her ability to critically analyze information, promote creativity, and provide helpful feedback. She's open minded, fun, and great at what she does! One of the best tutors I've had in a while.
- Alex Z. from Dallas, TX
Lucy is outstanding! My 9th grader loved her calm demeanor and guidance. She makes writing appealing. Lucy is knowledgeable and provided different outlook on the topics.
- Maria F. from Gulf Breeze, FL
Lucy has been very helpful with my son, a freshman in high school. Right after their 1st lesson my sons comments were mom thanks for getting me a tutor. I understand so much more than i ever got out of my class. 'best thing we ever did.
- Karen E. from Charlottesville, VA
My daughter is not easily impressed with tutors and she really liked Lucy. She also understands her English work a lot better as a result of just a couple sessions. We are very pleased
- Mary B. from Charlottesville, VA
Lucy is helping my daughter prep for Spanish 3 this coming semester. She has impressed my daughter and me as friendly, articulate, and knowledgeable in her topic. My daughter's confidence is building in grammar. She especially appreciates the help on study skills, which could help a lot in the fall. We are glad to have her!
- Jerry P. from Charlottesville, VA
Search More Tutors in the SU Area